Specials and Events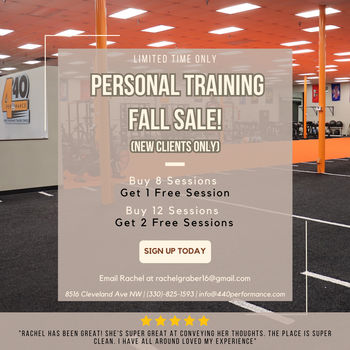 Personal Training Fall Sale
Testimonials
My name is Alyssa Ziehler and I am a college basketball player at The University of Findlay. I graduated from Green High school and chose 440 to help prepare myself for college athletics. As soon as I started I knew right away this was the place I wanted to be working out at. The atmosphere in the gym is second to none and each and every coach goes above and beyond to reach every athletes goals. My little brother saw how much I enjoyed going to 440 and has just recently started training with Chris and he absolutely loves every minute of it! Lexi has not only helped me achieve my goals physically but has helped me gain more confidence in the gym. Bringing in my college packet Lexi also incorporates individualized movements and exercises to help with injury prevention. I'm beyond thankful for all that the coaching staff at 440 has done for me and I wouldn't be the athlete I am today without them!
- Alyssa Ziehler
My name is Riley Floyd and I am a college lacrosse athlete at Kent State University. I am a former Jackson lacrosse athlete and started working out at 4.40 Performance in the sixth grade. From the moment I began training with the coaches at 440, I can confidently say that they have given me all the time and effort to make me the lacrosse player I am today. The coaches have always cared for me and my fitness goals as they have always pushed me to be the best athlete I can be. The positive atmosphere in the gym encourages athletes to work hard, stay motivated, and focus on their sport. The 4.40 coaches passion in helping their athletes succeed has made me a stronger and more confident athlete. I am beyond grateful for the connections I have made with the coaches, the memories that will last a lifetime, and for this facility helping me to be the healthiest version of myself.
- Riley Floyd
My name is Lukas Pemberton, i am a current jackson volleyball player. I have been at 440 on and off for the past few years. More recently I have gotten more involved with myself and my own success in athletic training at 440. There has been nothing more helpful to me with my progress in my vertical and overall strength and speed than 440. The only words i can describe the staff as is friendly, extremely helpful, and most of all respectful. The equipment and exercises are very useful and sports oriented . Some of the friendships i've built here have been great. It is safe to say i can dedicate my success in my sport to the training staff at 440.
- Lukas Pemberton
Everything about 4.40 is awesome! The coaches gave my daughter confidence and strength and also were so friendly to her that she looks up to all of them. I would highly recommend any program at 4.40!
- Kerri Clark
Rachel is doing a fantastic job with Dashel. She keeps it fresh and fun to accomplish the desired result. The atmosphere of the gym is also very energetic, but not Hans and Franz hardcore. We enjoy the gym atmosphere and staff quite a lot. The only reason we would give a lower score would be to keep the gym to ourselves.
- Jeff Hemlick
Over the last few years, the coaching staff at 440 has been instrumental in my development as an athlete. They are extremely knowledgeable and never fail to have a solution to any problem or training question I present to them. During the short periods of time I am able to come home from college, I always look forward to working out with this great group of people!
- Jaret Pallotta
I wanted to thank you guys for everything you did for my girls. From the first day to the last, I saw such a drastic change in performance. Not only in their speed, but also a change in their attitude. You pushed them to new levels, which I hope will allow them to push themselves even past that. It was such a joy working with your team. I also loved it and found changes in myself as well. I will definitely recommend your program to teams I talk to, and will also definitely try to get the girls to sign up for off season training. I trust the work you do, and know that it truly makes a difference. Thank you again for everything. We all really do appreciate you guys!
- Emily Bergert - Hoover Girl's Lacrosse Coach
I have been going to 440 for about 7 years and they have never failed to impress me. Any time I have a question about an exercise, stretches, or even nutrition they always have a great answer. I went there for the first time when I was in the 8th grade. I played lacrosse and wanted to become a more serious athlete and they helped me get there. When I first started I had minimal strength and speed. But they have helped me get to the player I am today which led me to be a collegiate D1 athlete at Central Michigan University. They have taught me many of the foundations that I will need to succeed in college. I would recommend this facility for any student athlete planning on playing in the next level in college or even just looking to stay in shape. They are truly amazing people.
- Abigail Lair